Shelby Seedless Dry Mix Gourmet Parrot Food 1kg
Regular price
$102.57 USD
Regular price
$0.00 USD
Sale price
$102.57 USD
Unit price
per
Sale
Sold out
LIMITED TIME DEAL! Add a bag of Calming Seed Mix OR a bag of Spicy Seed Mix to your Seedless Dry Mix order and automatically get 5% off seeds at checkout!
Introducing Shelby's Seedless Dry Mix - the ultimate parrot food for all parrot sizes from cockatiels to macaws! This healthy parrot food is similar to our best selling Shelby Gourmet dry mix, but with one big difference - absolutely no seeds! And to top it off, it comes in a much bigger size - 1kg.
Our Seedless Dry Mix is made from over 35 human grade ingredients, including spirulina, blue cornflowers, blueberries, bee pollen, star anise, pumpkin, dried chamomile flower, Sauerkraut and whole chillis. We use freeze-dried fruits and vegetables to ensure maximum nutrition for your feathered friends.
The best thing about this healthy Seedless parrot food is that it is low in fruit. We understand that too much fruit can be a problem for parrots, causing health issues like obesity and diabetes, as well as behaviour problems like screaming and plucking. That's why our Seedless Dry Mix is perfectly balanced to provide your parrot with all the essential nutrients they need, without the added sugar from fruit.
Our usual Shelby Dry Mix comes with an enclosed and separately packaged bag of seeds, for the purpose of creating a complete meal by combining a variety of freeze-dried fruits and veg, herbs, spices, flowers and seeds. Our largest Shelby Dry Mix is 700g, with 230g of that being seed, meaning 470g of the entire product is Dry Mix. The benefit of our original Dry Mix range is that you get everything you need in one convenient bag, ready to give to your parrot!
With our brand new 1kg Shelby Dry Mix, you receive 1kg of pure dry mix, absolutely no seeds! This bag of nothing but freeze-dried fruits and veg, herbs, spices and flowers is nearly identical to the original Dry Mix blend we offer, just no seeds and in a much larger and longer lasting quantity.
With no seeds, our Shelby Seedless Dry Mix is incredibly versatile. You can mix it with other foods or use it as a treat, making it a great addition to your parrot's diet. And with our giant 1kg size bag, buying this with a 500g bag of Calming Seed Mix, or Spicy Seed Mix is cheaper than buying two 700g dry Mix bags AND give you far more food! This large bag of parrot food will last even the biggest flocks a long time, ensuring your feathered friends always have a consistent and healthy diet.
The benefits of a seedless dry mix are numerous. It is a healthier alternative to seed-based diets, providing a wide range of essential vitamins and minerals for optimal health. It is also more versatile and cost-effective than traditional seed-based diets, making it an excellent choice for any parrot owner who wants the best for their feathered friend.
So why not try Shelby's Seedless Dry Mix today and give your parrot the nutritious and delicious food they deserve? Your feathered friends will thank you for it!
Ingredients

Barley Flakes, Freeze-Dried Carrot, Freeze-Dried Beetroot, Dried Pumpkin, Freeze-Dried Corn, Freeze-Dried Peas, Freeze-Dried Blackberries, Hibiscus Flower, Dried Courgette, Whole Cloves, Star Anise, Freeze-Dried Blueberries, Whole Dried Chillis, Organic Bee Pollen, Rose Petals, Freeze-Dried Cauliflower, Freeze-Dried Elderberries, Dandelion Root, Damask Rose Buds, Calendula Flower, Dulse Seaweed, Blue Cornflower, Chamomile Flower, Freeze-Dried Sauerkraut, Dried Kale, Mullein Flower, Spirulina, Spearmint Powder
Shipping & Returns

World wide shipping available on some products. Spicy Seed mix and Calming Seed Mix cannot currently be shipped to Australia. All orders made before midday are shipped the same day, otherwise the next working day including Saturdays. Orders made after midday on Saturday are shipped on Monday. See our returns policy for full details about returning your product
Share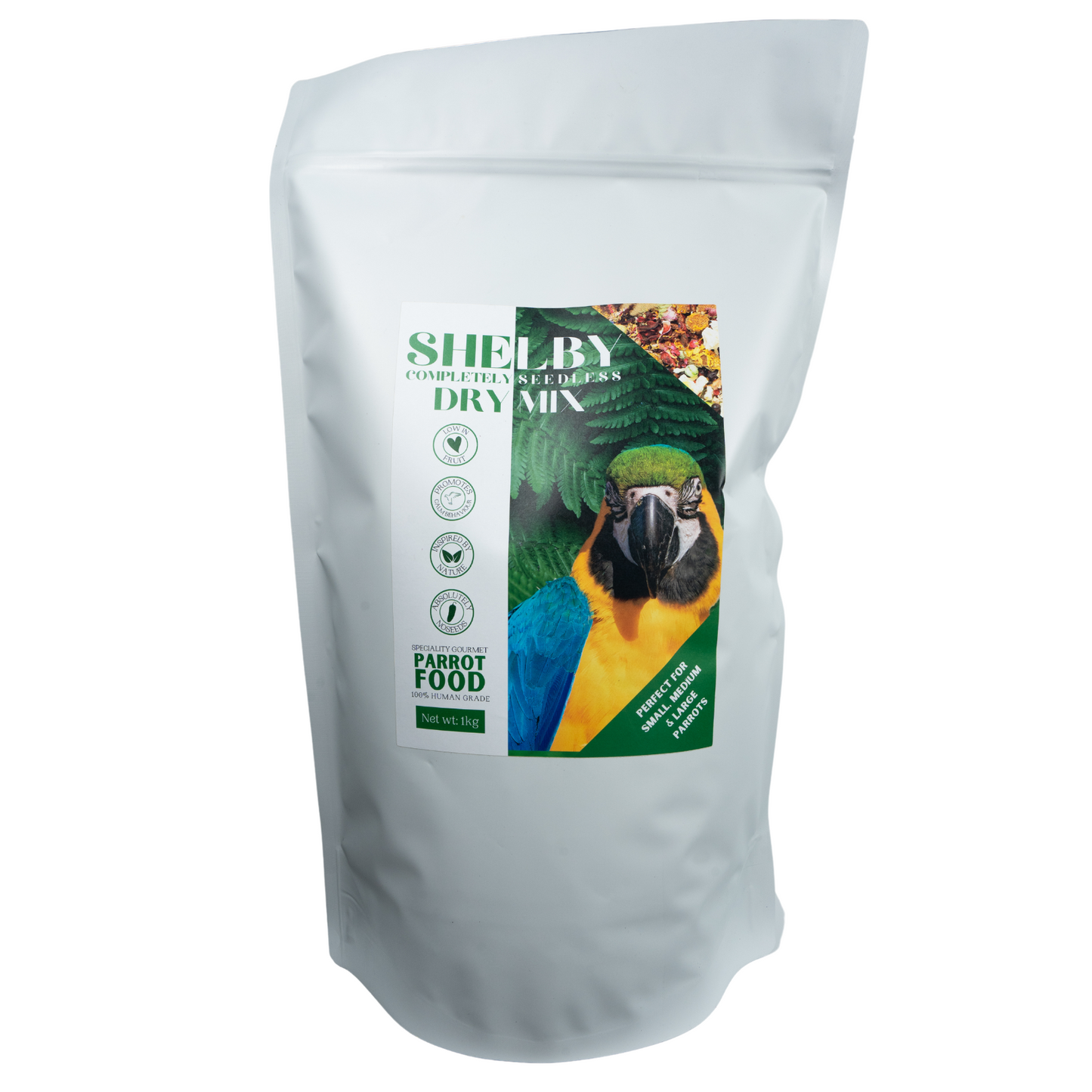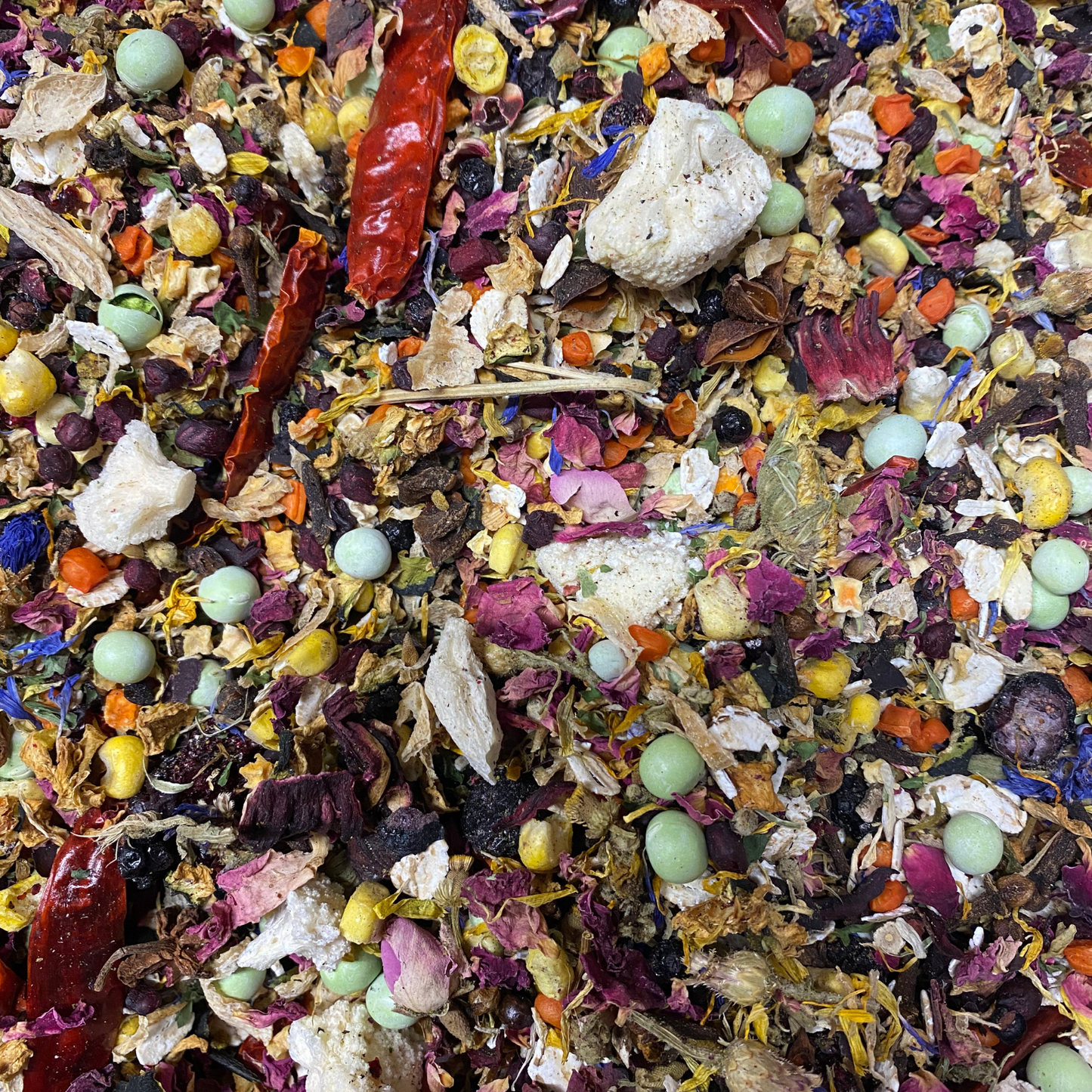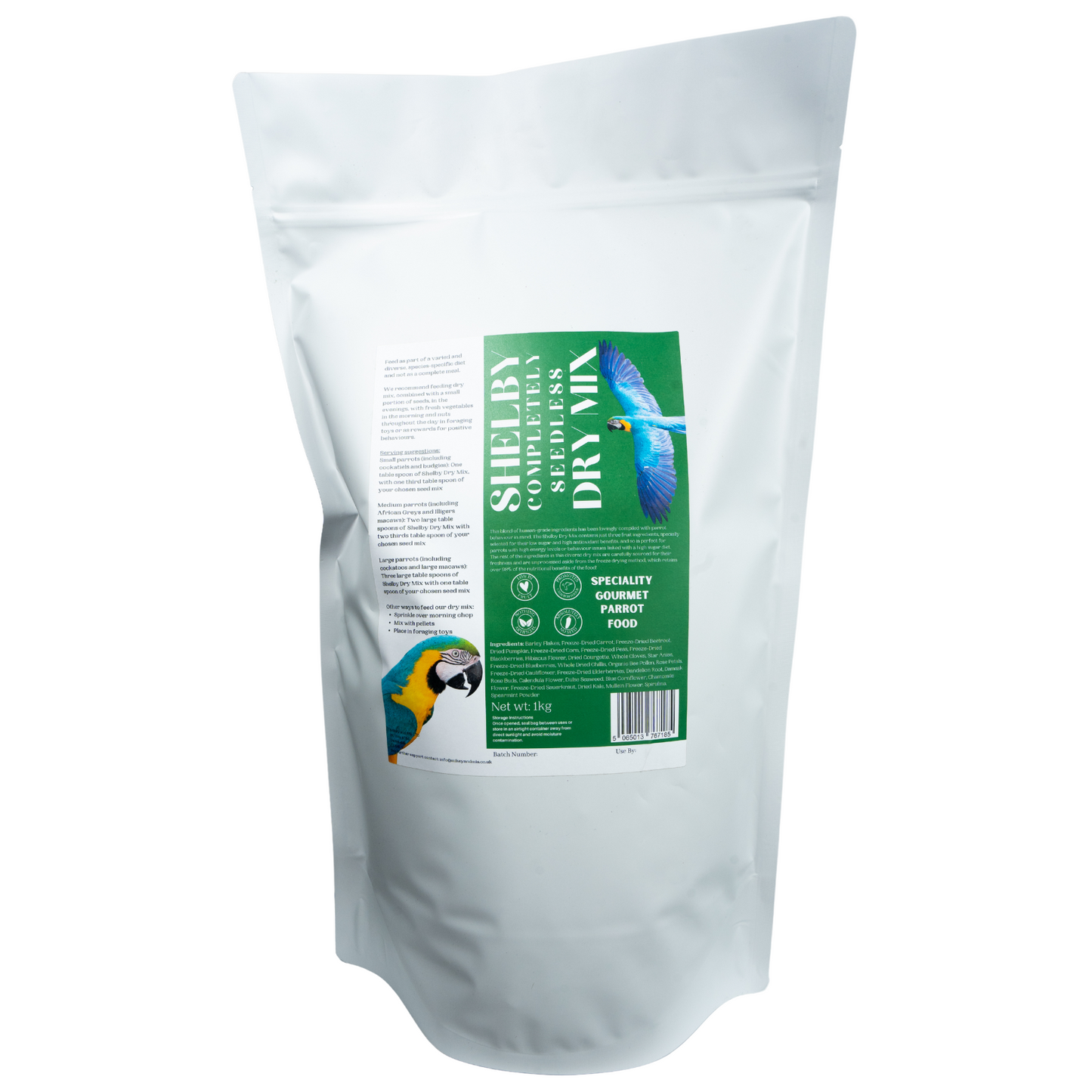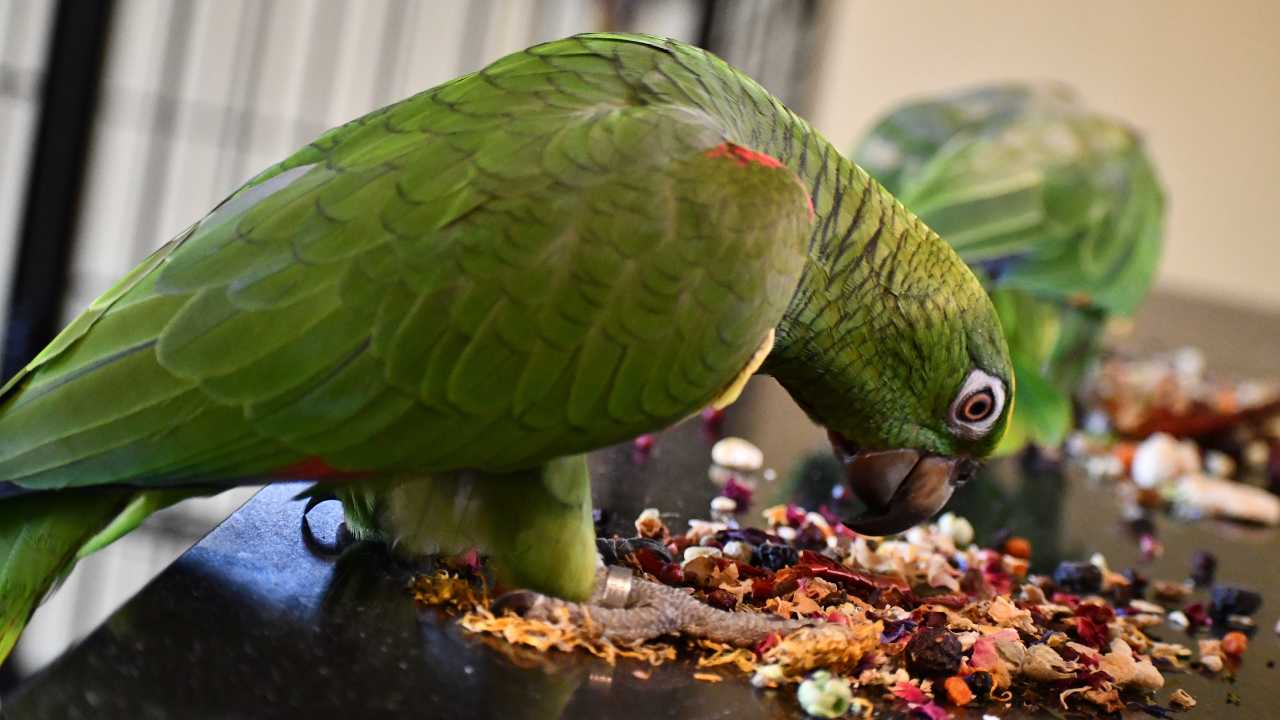 Review
"Always great. i've got Marnie weaning onto the mix and Winnie acts like she hasn't had food all day when i give it to her, just inhales it down.
Definitely something i'll always be buying"
Free Shipping

Spend over £50 and recieve free standard shipping for all UK customers

Hassle-Free Exchanges

Something not to your liking? Email us and our five star customer care team will deal with your concerns as quickly and efficiently as possible