Calming Seed Mix For Parrots - 500g
Regular price
$0.00 USD
Sale price
$10.25 USD
Unit price
per
Sale
Sold out
COMPARE CALMING SEED MIX WITH SPICY SEED MIX

The Calming Seed Mix is a combination of 15 different seeds perfect for parrots of all sizes. Rather than creating an unhealthy mix of low quality seeds, this parrot seed mix has been crafted carefully with parrot health in mind. Too often people are offering their parrots a cheap seed mix that contains low quality feed-grade ingredients, with only a small selection of seed varieties and sun flower seeds being the main component of the mix. Our Calming Seed Mix ratio has been calculated specifically to ensure an even mix of all of the seeds and therefore a varied combination of essential fats and proteins, something all parrots need in their diet. 
The 16th ingredient in the Calming Seed Mix is lavender, chosen to support calm and low energy behaviours and a popular flower to eat for most parrots. The Calming Seed Mix for parrots contains exclusive seeds found in no other seed mix on the market such as melon seeds, a super food and extremely nutritious, and caraway seeds which are packed with nutrients and aid a healthy digestive system. 100% of the ingredients in the Calming Seed Mix are human-grade and of the highest quality.
Our seed mixes should never be fed as a complete meal, and only combined with fresh or dried chop, or in foraging toys as a stimulating and rewarding activity. Fat and protein is an essential component in a parrot's diet, however it should never form the majority of their diet.
We recommend combining the Calming Seed Mix with any of our Dry Mix parrot foods.
Ingredients

Brown Linseed, Hempseed, Pumpkin Seed, Milk Thistle Seed, Black Sesame Seed, White Sesame Seed, Sunflower Seed, Chia Seed, Golden Flaxseed, Nigella Seed, Brown Mustard Seed, Blue Poppy Seed, Caraway Seed, Melon Seed, Amaranth Husk, Lavender.
Shipping & Returns

World wide shipping available on some products. Spicy Seed mix and Calming Seed Mix cannot currently be shipped to Australia. All orders made before midday are shipped the same day, otherwise the next working day including Saturdays. Orders made after midday on Saturday are shipped on Monday. See our returns policy for full details about returning your product
Share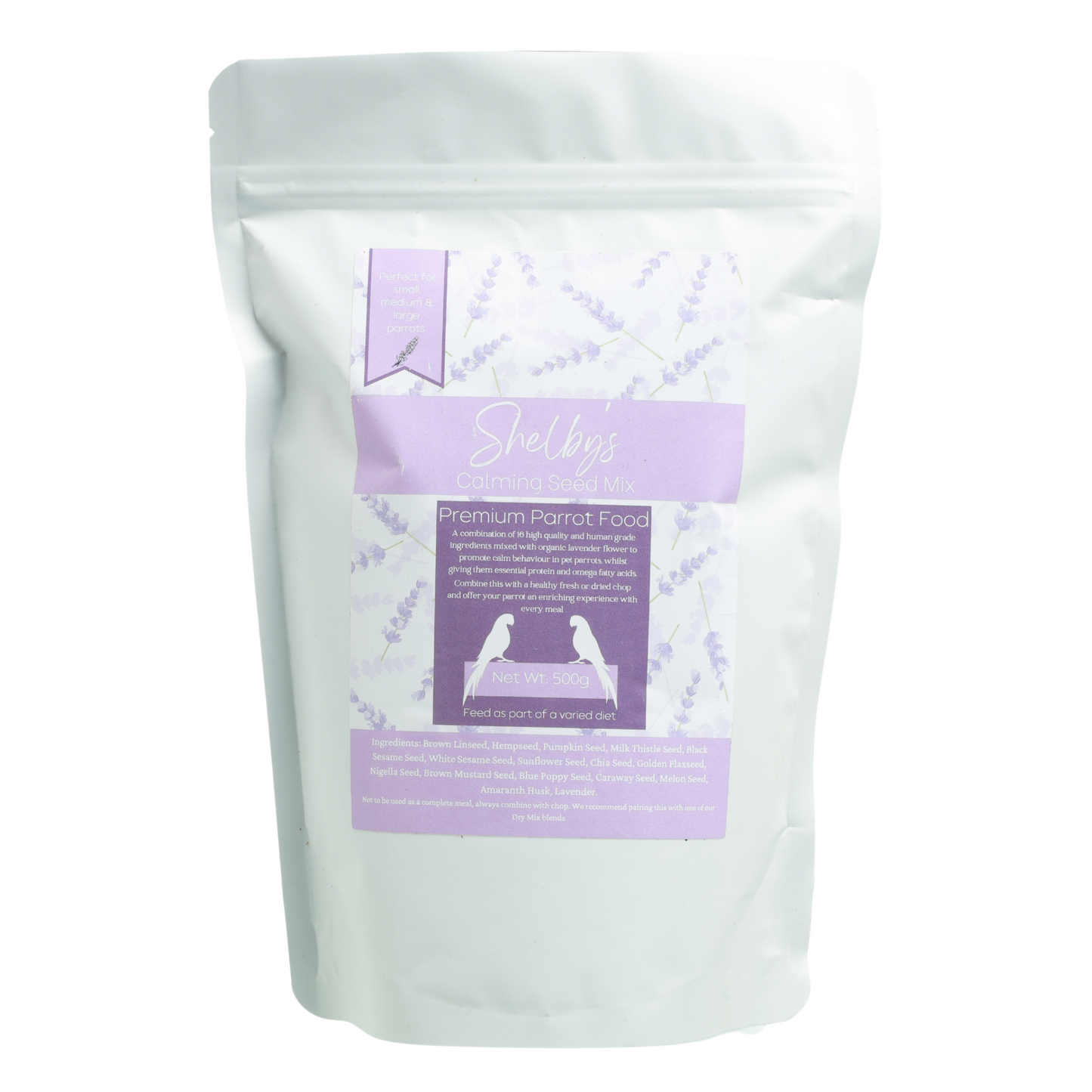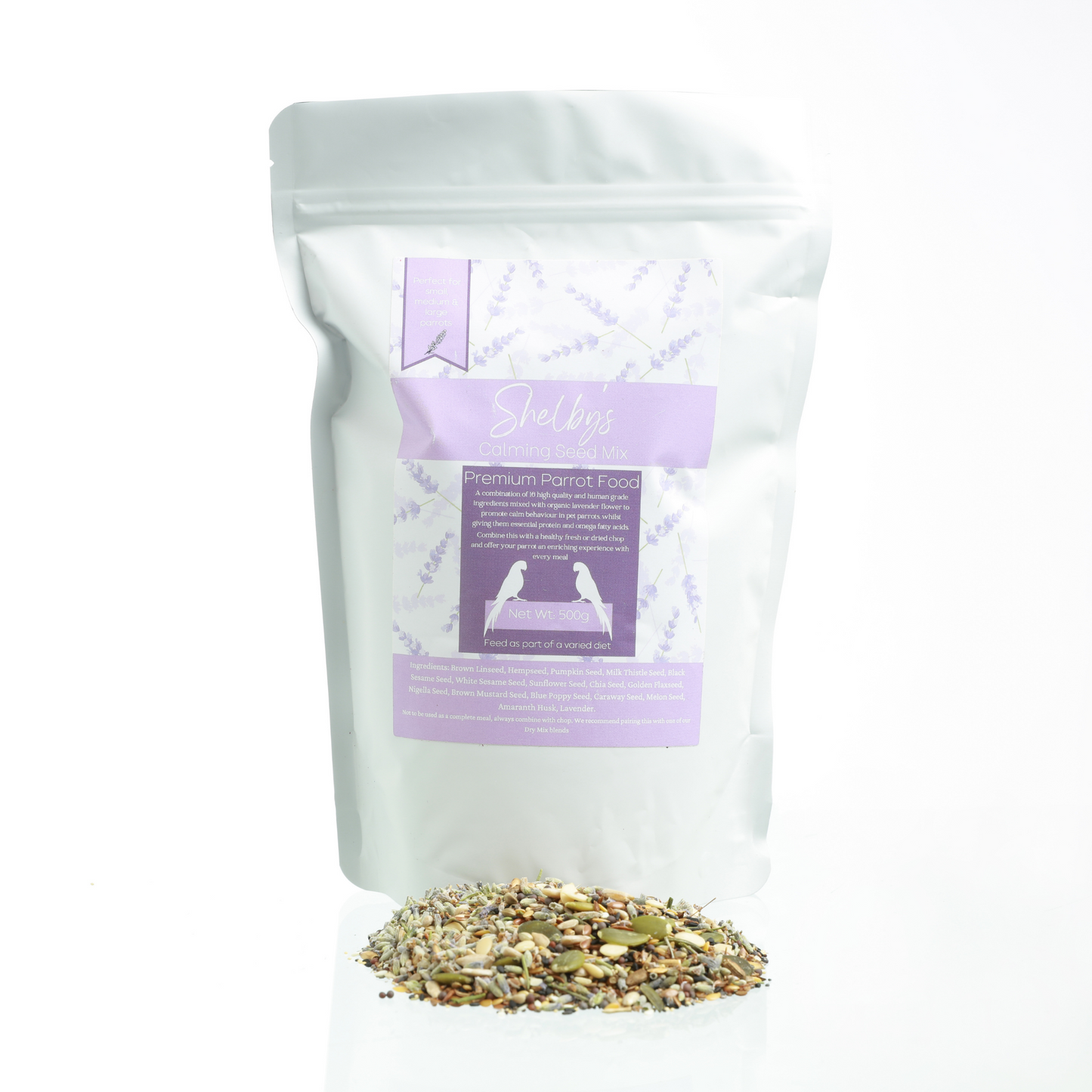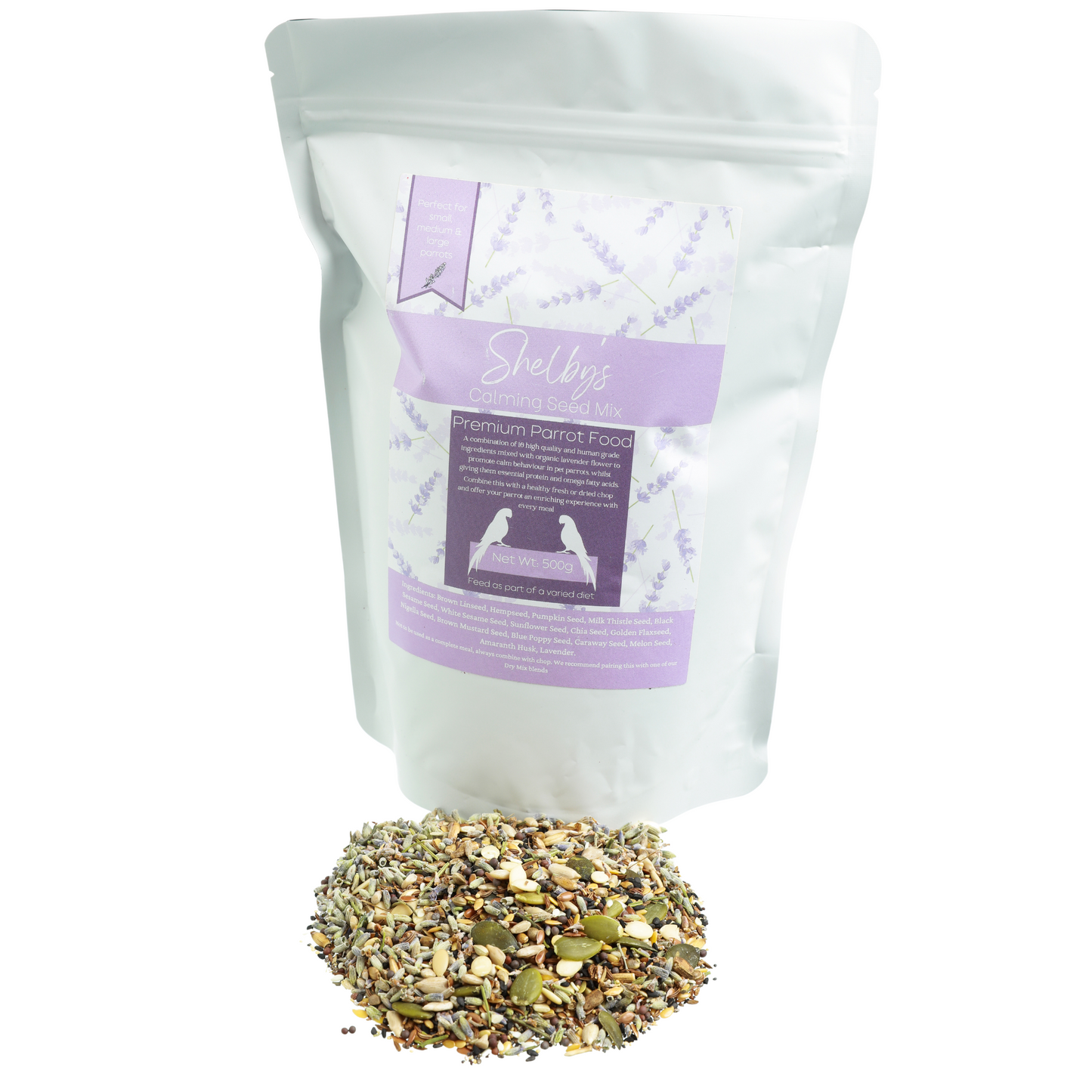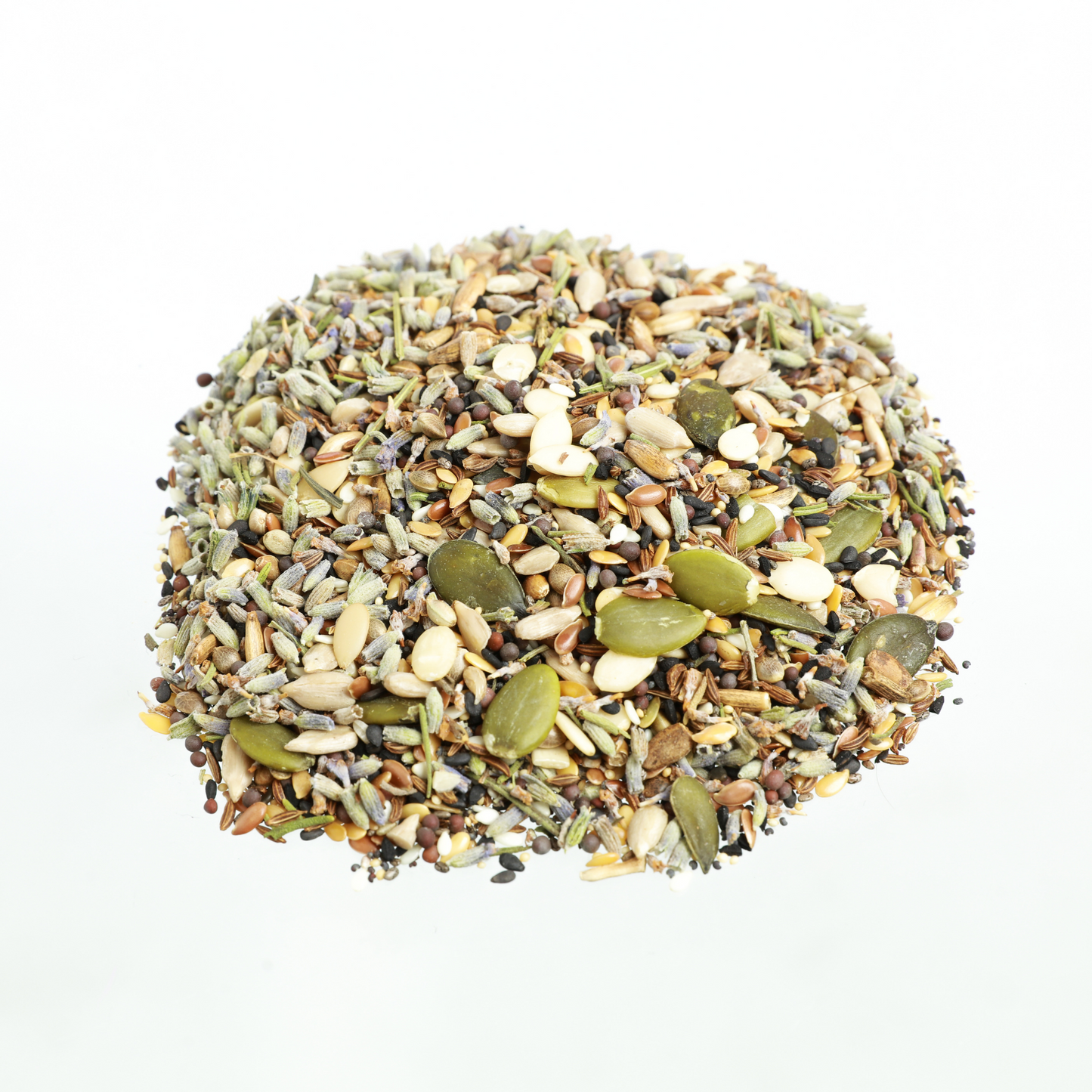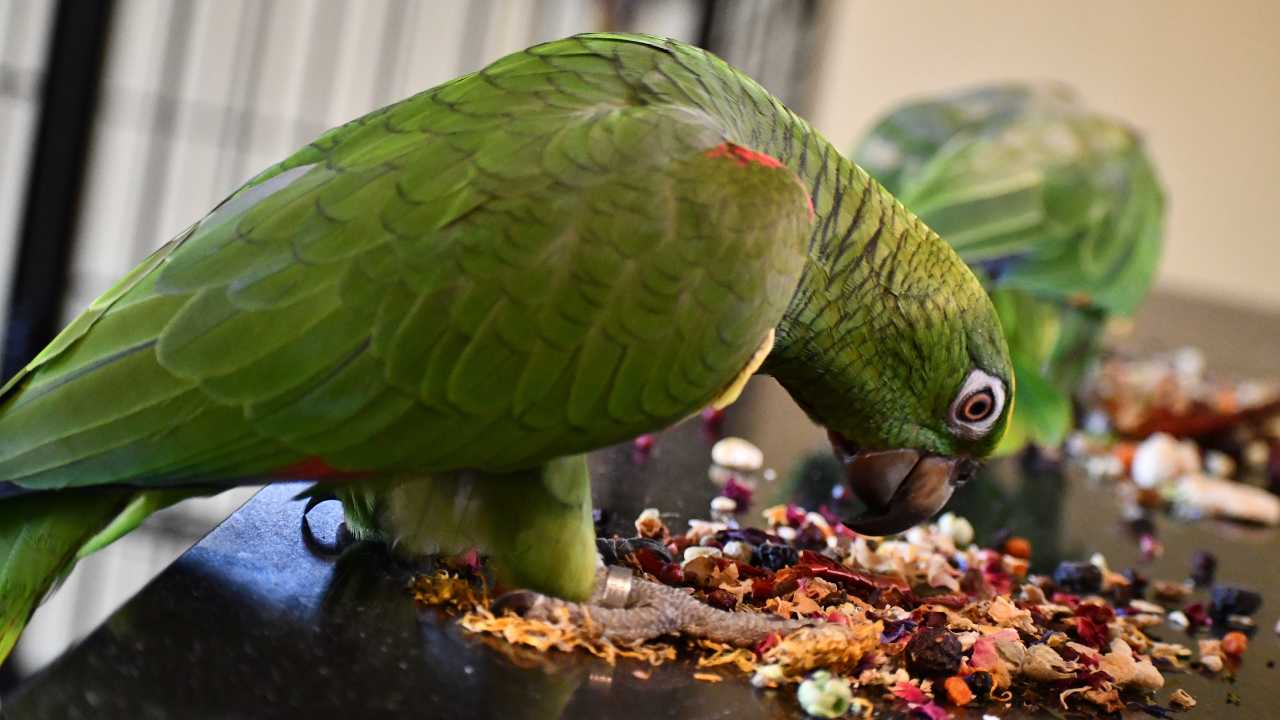 Review
"Always great. i've got Marnie weaning onto the mix and Winnie acts like she hasn't had food all day when i give it to her, just inhales it down.
Definitely something i'll always be buying"
Free Shipping

Spend over £50 and recieve free standard shipping for all UK customers

Hassle-Free Exchanges

Something not to your liking? Email us and our five star customer care team will deal with your concerns as quickly and efficiently as possible