Mikey and Mia's Dry Mix Healthy Parrot Food
Regular price
$0.00 USD
Sale price
$21.79 USD
Unit price
per
Sale
Sold out
 COMPARE THIS DRY MIX WITH THE SHELBY GOURMET DRY MIX
Mikey and Mia's Dry Mix, complete with a Spicy Seed Mix, is a medley of freeze dried fruits and vegetables, dried flowers, herbs, spices and seeds with over 50 ingredients, providing a unique and enriching meal every single day. 
The Mikey and Mia Dry Mix is an exciting combination of highly nutritious and vitamin packed ingredients specifically chosen to offer not only a healthy option at meal time, but an exciting mix of so many ingredients that will enrich your parrots, as they rummage through this parrot food looking for their favourite foods and experiencing the explosion of flavours and textures.
Within each Mikey and Mia Dry Mix bag is an enclosed, separately packaged Spicy Seed Mix, which is perfectly measured out to combine with your parrot's Dry Mix food. 
All vegetable and fruit ingredients have been freeze-fried rather than dehydrated, specifically to ensure that over 98% of the nutritional benefits of the individual ingredients remains in tact. Dehydrating destroys many of the vitamins and minerals found in foods and so all of our dry mix fruit and vegetable components are always freeze-dried. 
Feed as part of a healthy and diverse diet including fresh vegetables, fruits, nuts and seeds. No one food should ever be the main component of a parrot's diet. 
This all in one parrot food brings convenience and premium health together in one bag of quality parrot food, and there are multiple ways to offer it to your feathered family. 
Combine the Mikey and Mia Dry Mix with your parrot's fresh chop
Offer the

Mikey and Mia

Dry Mix in foraging toys for a healthy and stimulating meal in one
Mix the

Mikey and Mia

Dry Mix with your parrot's pellets

 

Feed the

Mikey and Mia

Dry Mix as a complete meal on it's own in place of pellets (which are often processed and of a low quality)
Mix the

Mikey and Mia

Dry Mix with the Shelby Dry Mix for an ultra varied and exciting meal
Suitable for small, medium and large parrots (for small parrots we suggest you break up the larger pieces)
Serving Suggestion:
For large birds, 3 large tablespoons of Mikey and Mia's dry mix + 1 level tablespoon of Spicy seed mix
For medium birds, 2 large tablespoons of Mikey and Mia's dry mix + 2/3 level tablespoon of Spicy seed mix
For small birds, 1 large tablespoon of Mikey and Mia's dry mix + 1/3 level tablespoon of Spicy seed mix
Ingredients

Dry mix:

Organic Hibiscus Flowers, Lavender Flowers, Elderflower, Marigold [Calendula] Flowers, Dandelion Root, Rose Petals, Chamomile Flowers, Blue Cornflower, Star Anise, Whole Cloves, Coriander seeds, Oregano, Organic Pot Barley, Barley Flakes, Organic Coconut Flakes, Organic Millet Grain, Spear Mint, Rosemary, Freeze-Dried Pomegranate Seeds, Freeze-Dried Pear, Freeze-Dried Elderberries, Freeze-Dried Apple, Freeze-Dried Banana, Freeze-Dried Blackcurrants, Freeze-Dried Blackberries, Freeze-Dried Cherries, Freeze-Dried Papaya, Freeze-Dried Dragon fruit, Whole Rose hips, Freeze-Dried Raspberries, Freeze-Dried Corn, Freeze-Dried Peas, Freeze-Dried Cauliflower, Freeze-Dried Broccoli, Freeze-Dried Carrot, Freeze-Dried Beetroot, Freeze-Dried Courgette, Whole Dried Chillies, Organic Dried Pumpkin

Spicy Seed mix:

Milk Thistle Seed, Hemp Seed, Chia Seed, Brown Flax Seed, White Sesame Seed, Sunflower Seed, Oat groats, Pumpkin seed, Black Sesame seeds, Buckwheat, chopped Red Pepper, chopped Green Pepper.
Discounts

Small - £11.33 per 100g
Medium - £8.00 per 100g
Large - £7.14 per 100g
Shipping & Returns

World wide shipping available on some products. Spicy Seed mix and Calming Seed Mix cannot currently be shipped to Australia. All orders made before midday are shipped the same day, otherwise the next working day including Saturdays. Orders made after midday on Saturday are shipped on Monday. See our returns policy for full details about returning your product
Share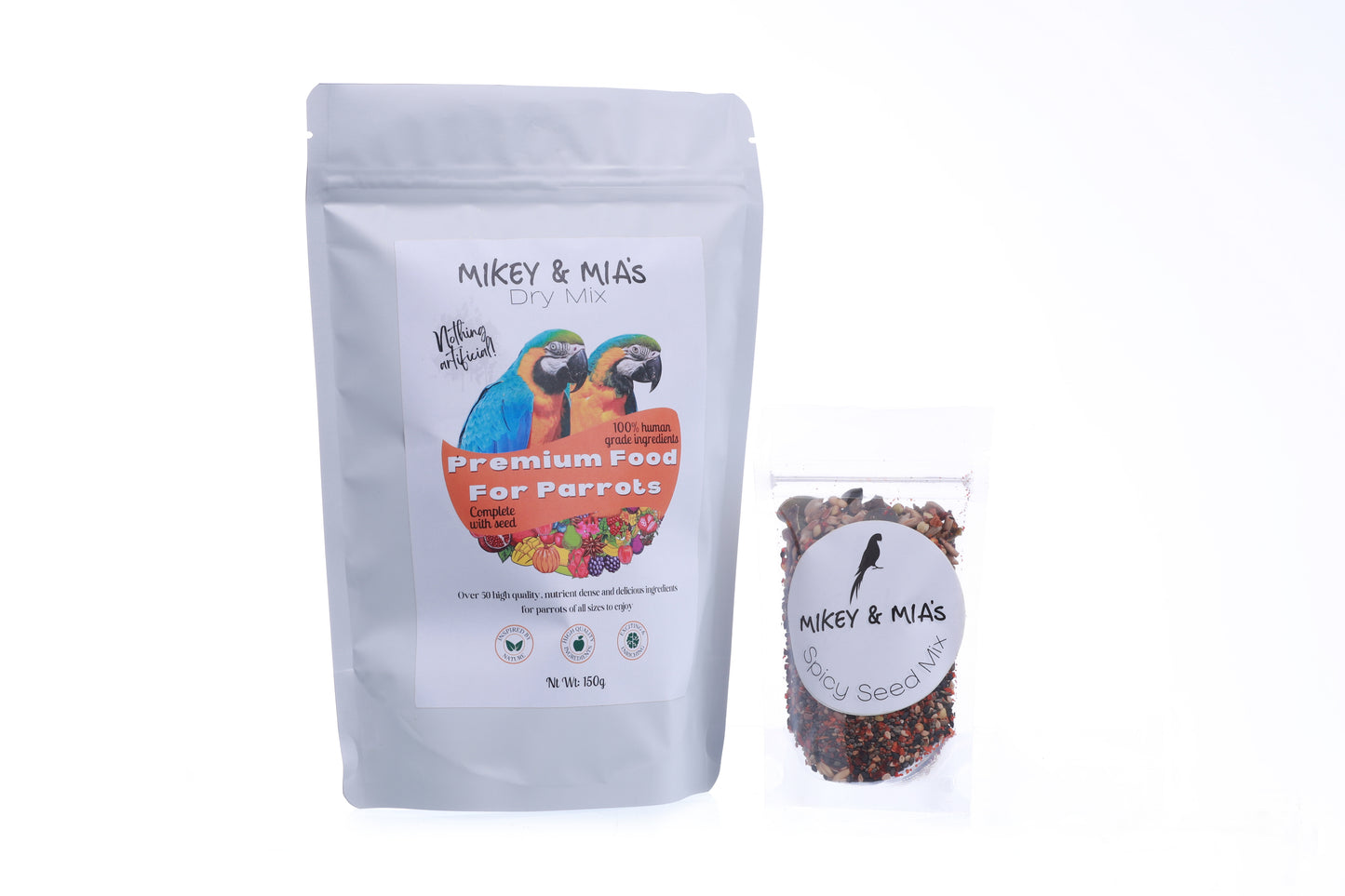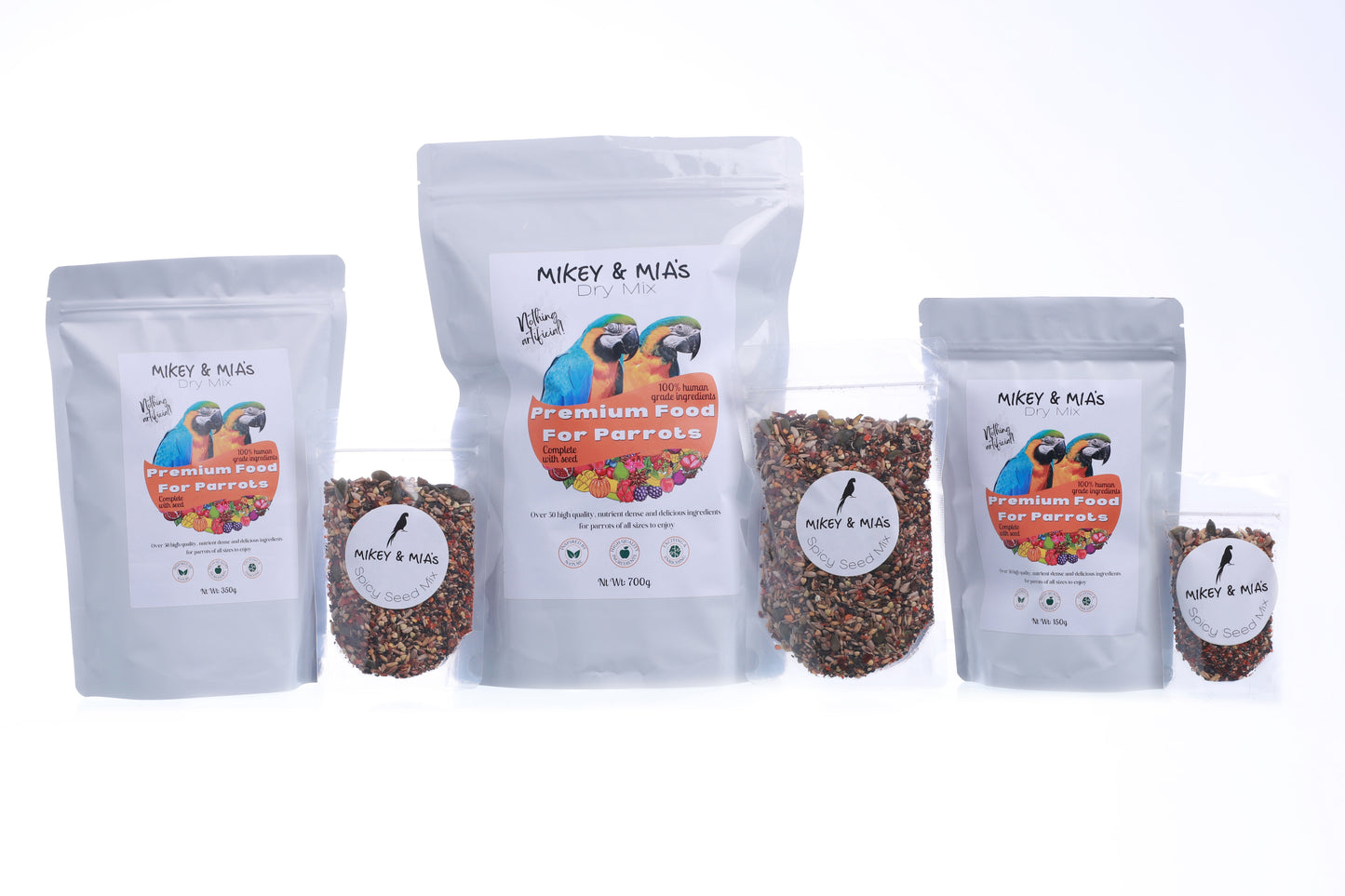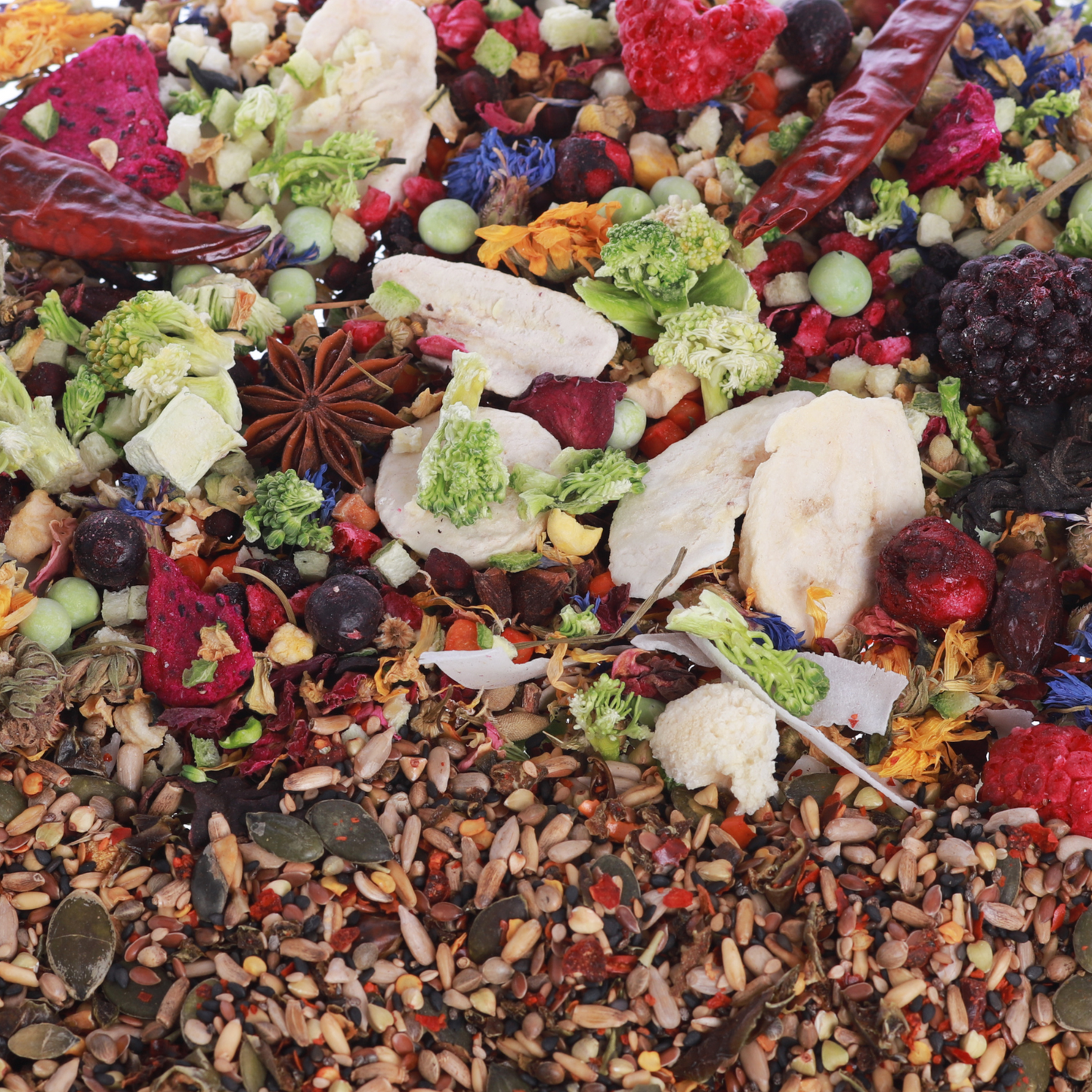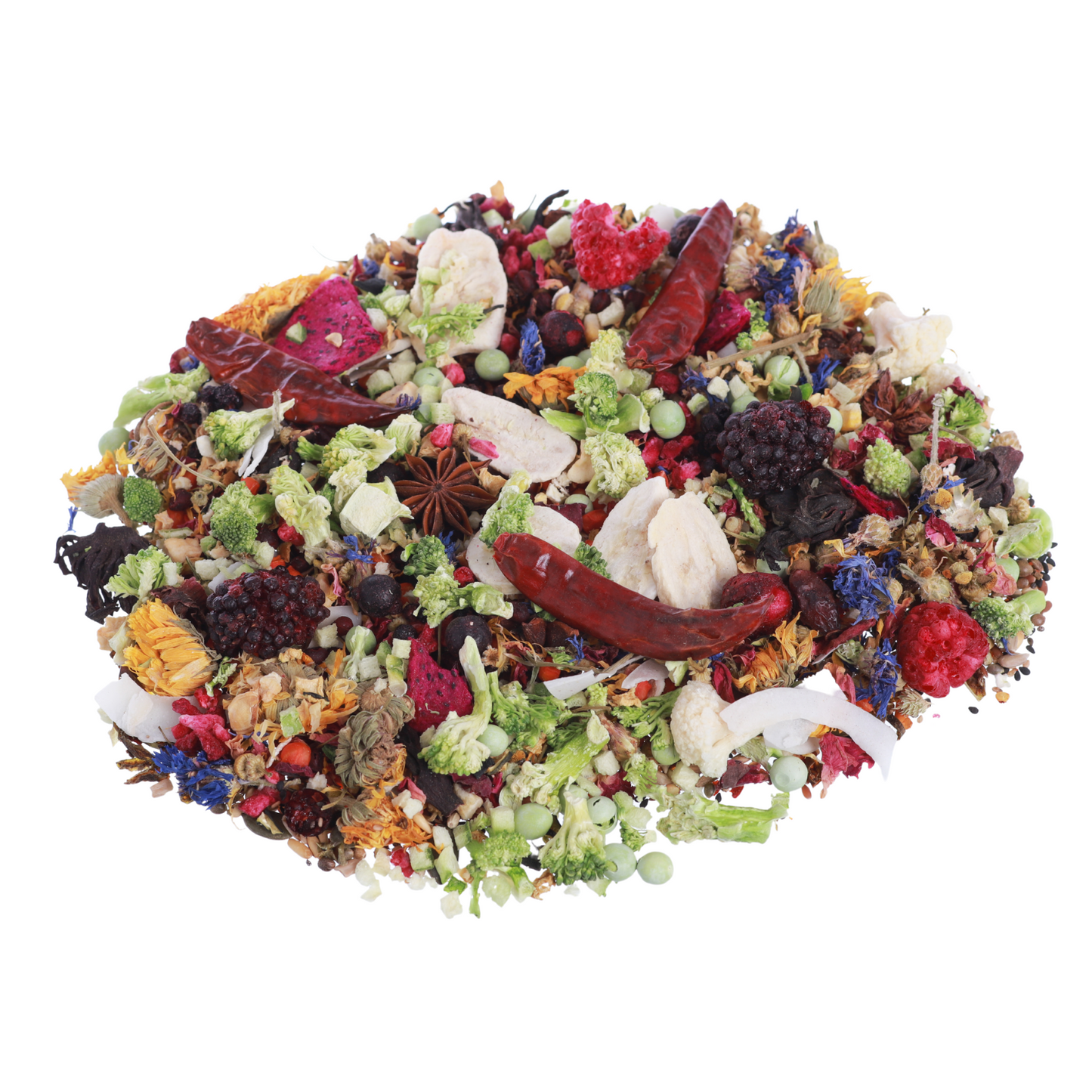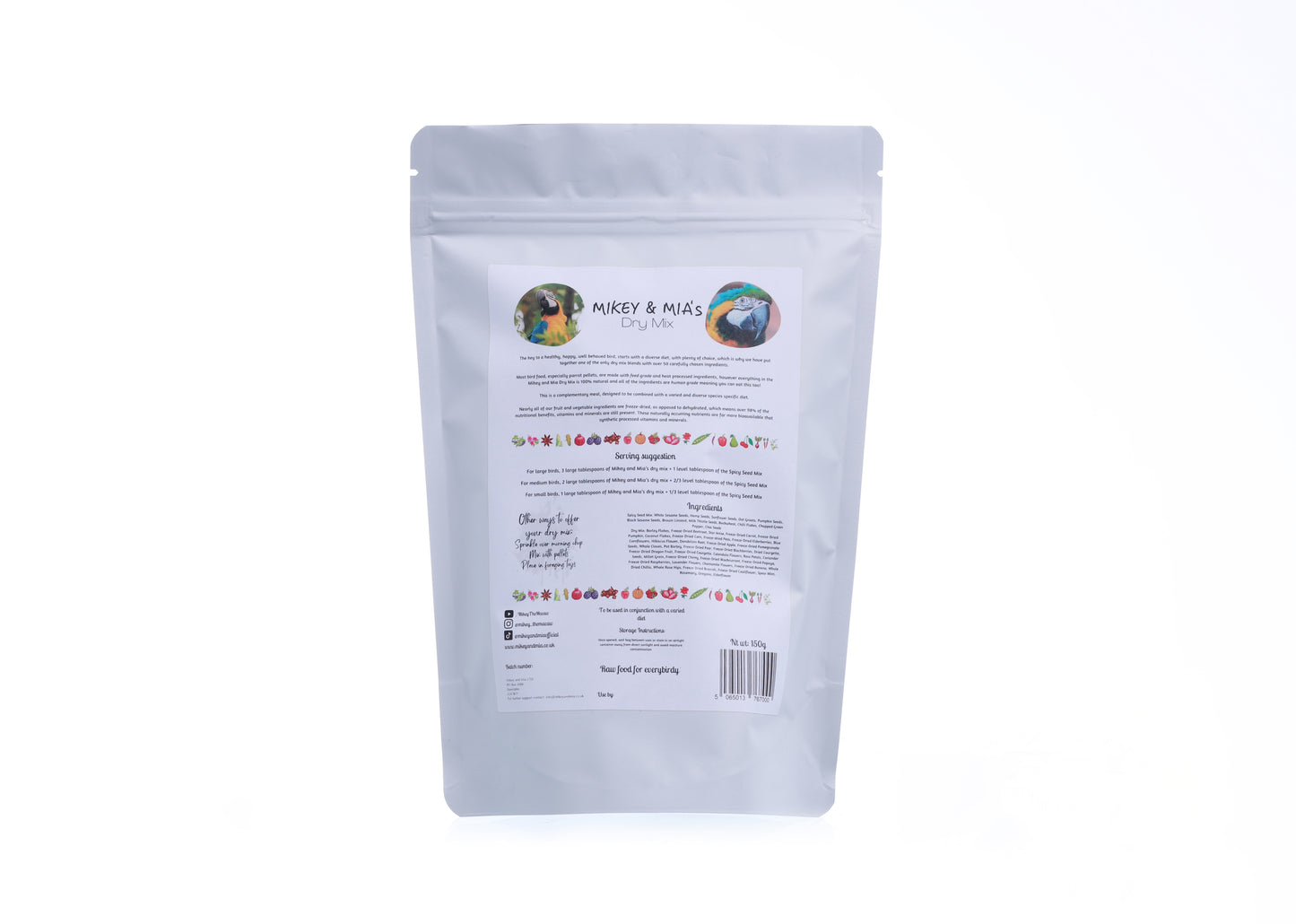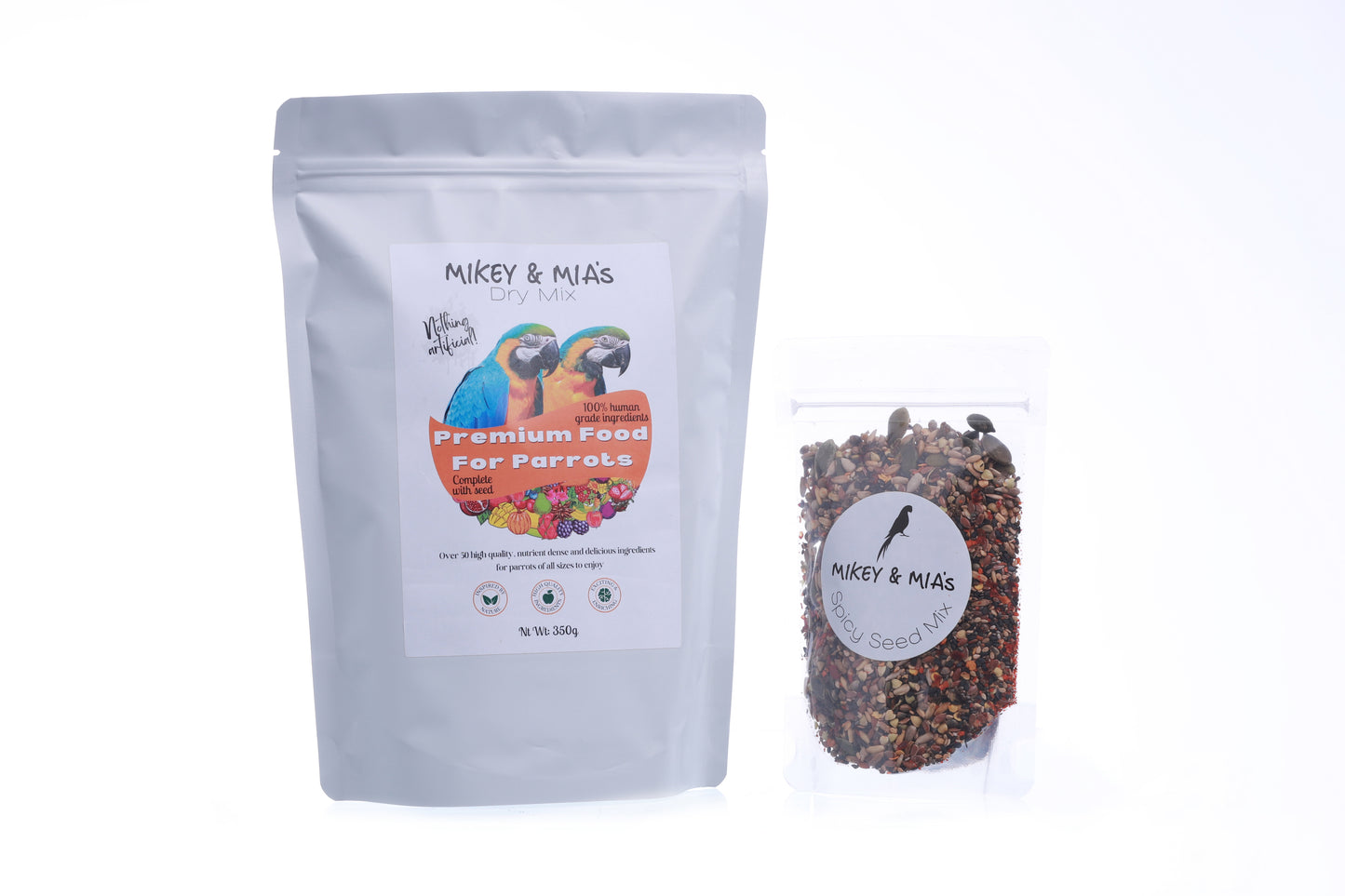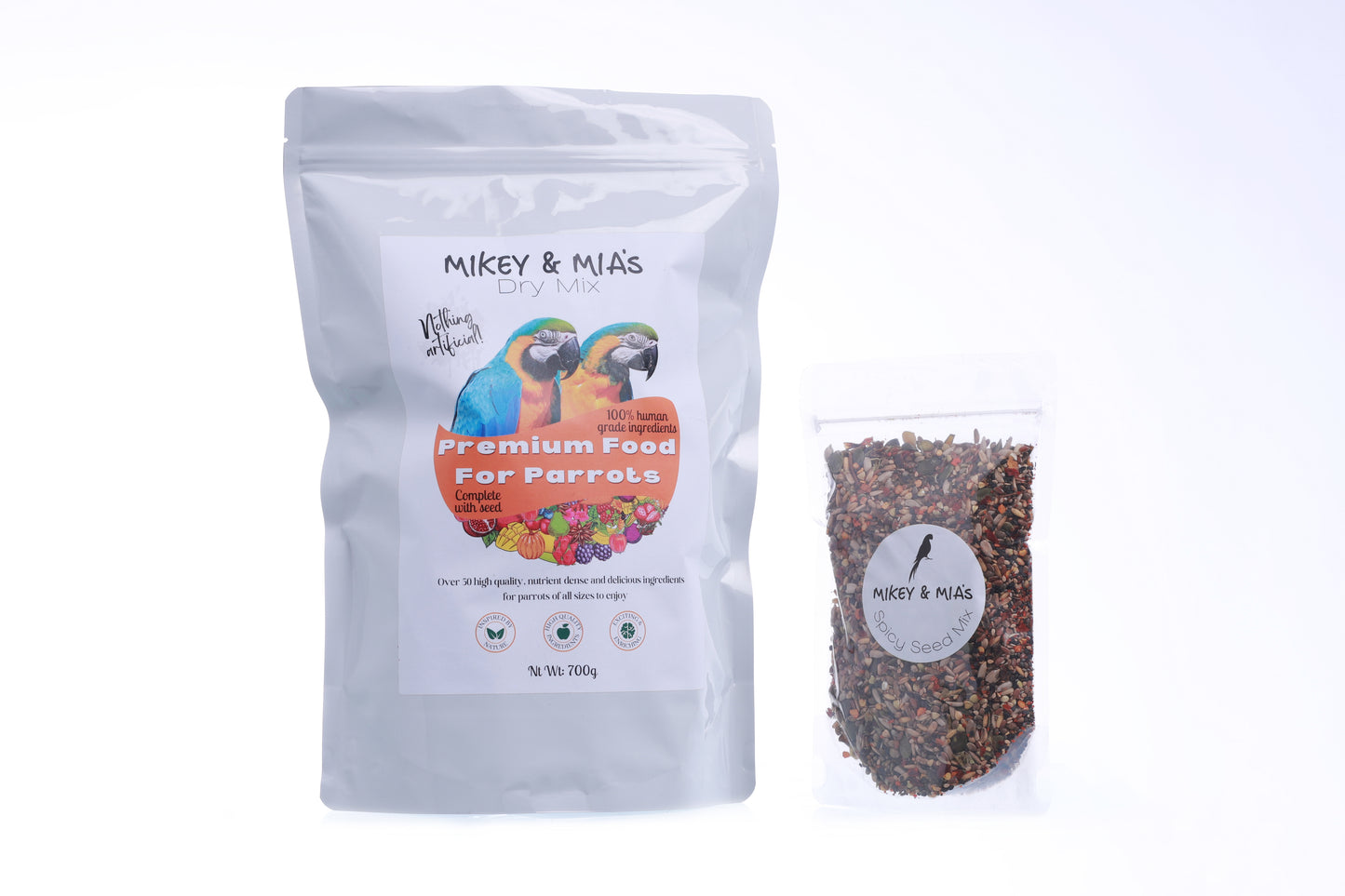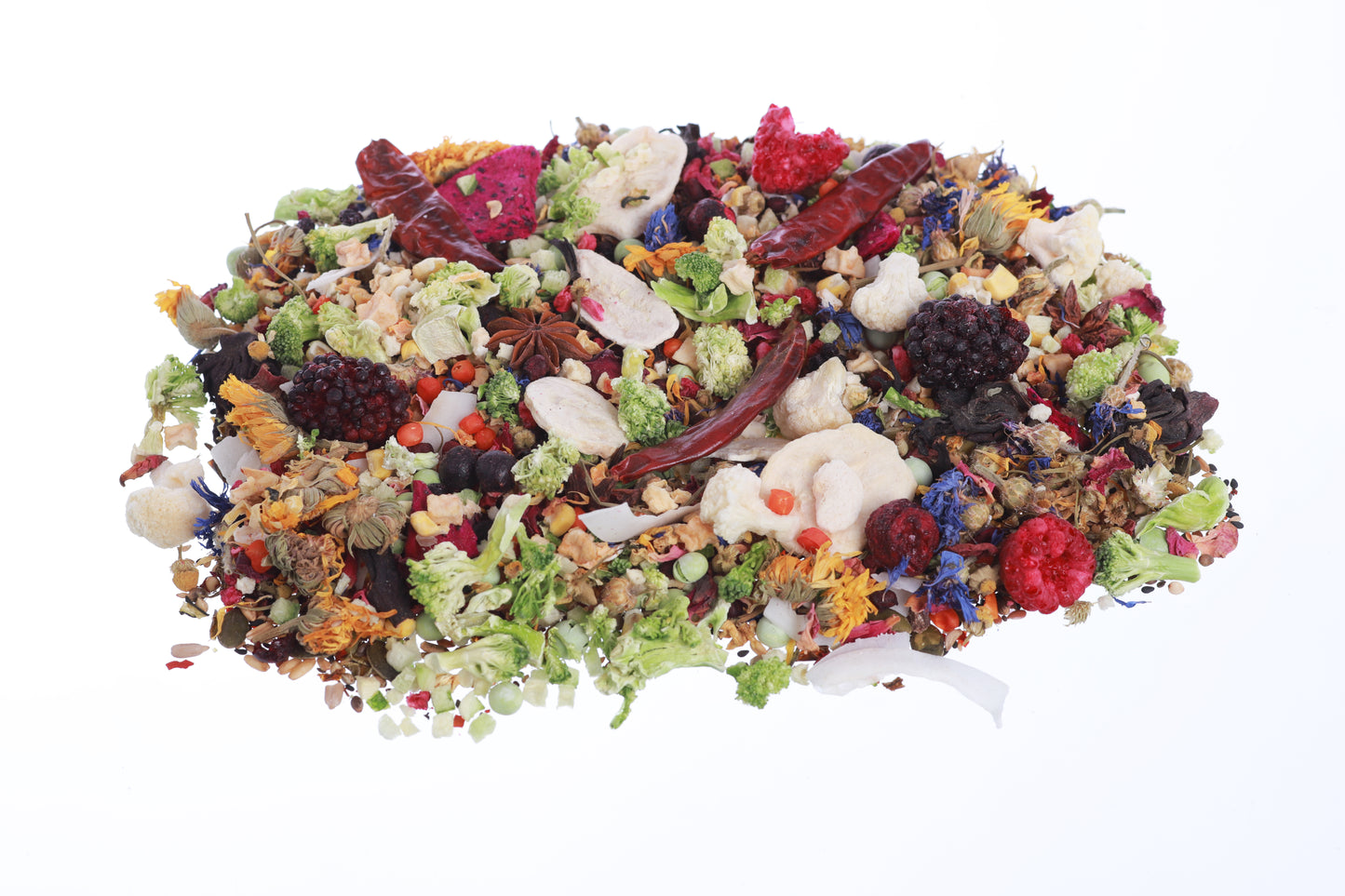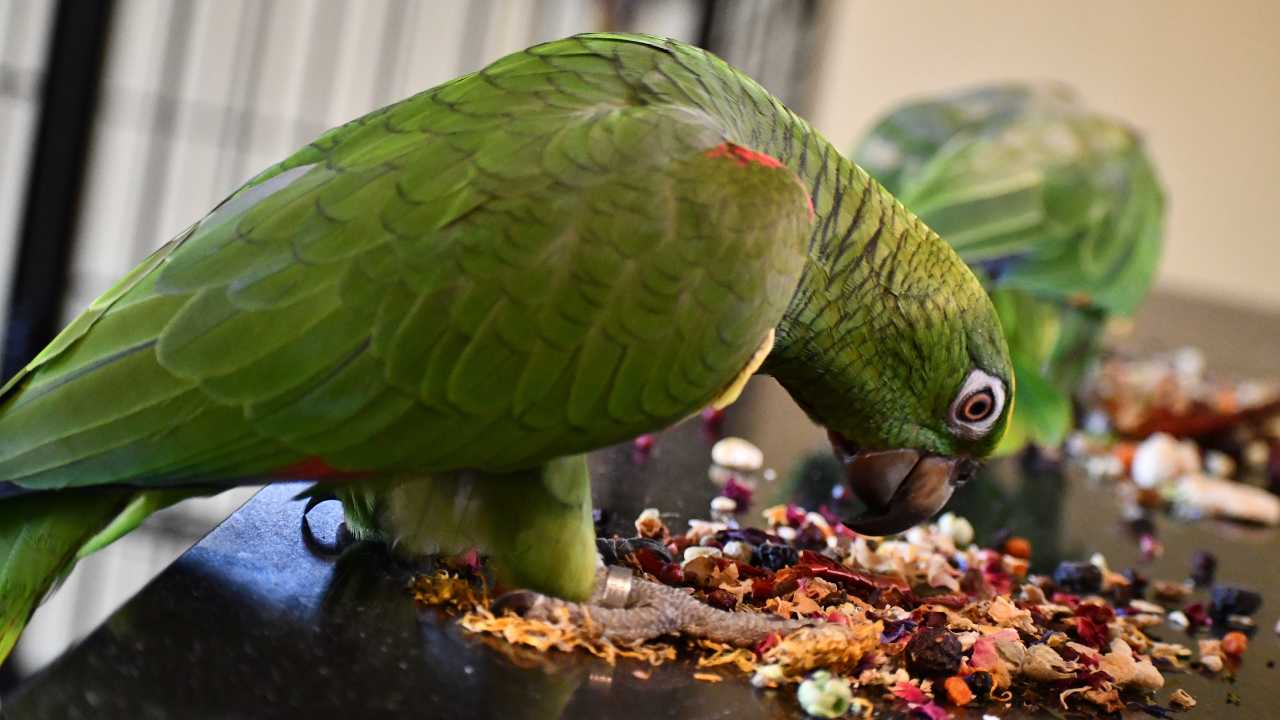 Review
"Always great. i've got Marnie weaning onto the mix and Winnie acts like she hasn't had food all day when i give it to her, just inhales it down.
Definitely something i'll always be buying"
Free Shipping

Spend over £50 and recieve free standard shipping for all UK customers

Hassle-Free Exchanges

Something not to your liking? Email us and our five star customer care team will deal with your concerns as quickly and efficiently as possible